Sunday Post: April 25 - May 1, 2016

Sunday Post is a weekly meme that is hosted by
Kimberly @ The Caffeinated Book Reviewer
. It's a chance to share news~ A post to recap the past week on your blog and showcase books and things we have received. Share news about what is coming up on our blog for the week ahead.
Hello, everyone! This week I didn't really get much reading done. I wish I could say I was busy but, I wasn't really. I literally spent the entire week binge watching Supernatural... My dad finally caught up to where I was on the show so, we decided to watch it together. I showed the show him the beginning of April, knowing he was going to love it, and he has already watched nearly all the episodes. We are just started Season 10! So, that is what I have done with my week, besides fitting in time to study for my driving permit, and get a little bit of reading in. ;D Also, I am currently having a giveaway on my blog for an eBook of your choice from Amazon up to $3.99. I know that it's not much but, I wanted to give something to my followers in gratitude for reading and commenting on my blog. It means the world to me!
Sorry, no review! I gave this book 3 out of 5 stars. I enjoyed this book! I found myself relating a lot with Cather about the Social Anxiety and some other aspects of this book.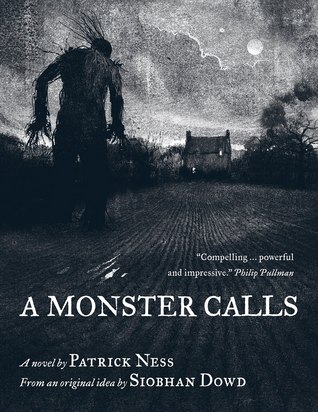 A Monster Calls By Patrick Ness
I just saw the movie trailer for this, and I knew that I had to read this book! I really look forward to it!
Newest Find in Music that I am Obsessing Over!
I literally can't get this song out of my head! At first I didn't understand the hype about this but, now I do! This song is sooo good! I need to download the rest of the soundtrack asap!
This wraps up this week. If you would like to see more of my posts in the future, please follow on
Bloglovin!!
!
Share with me your Weekly Recaps or Sunday Posts! I'll be sure to check them out!
Thanks for reading and hope you all have a great week!:D
I will be posting a giveaway once I reach 150 followers on Bloglovin!!!