REVIEW: In The Afterlight By Alexandra Bracken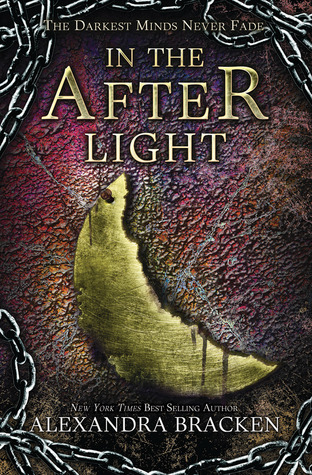 Published By: Disney-Hyperion
Genres: Dystopian, Young Adult, Science Fiction,
Romance, and Post-Apocalyptic
Pages: 535 pages
Synopsis (from Goodreads)
Ruby can't look back. Fractured by an unbearable loss, she and the kids who survived the government's attack on Los Angeles travel north to regroup. With them is a prisoner: Clancy Gray, son of the president, and one of the few people Ruby has encountered with abilities like hers. Only Ruby has any power over him, and just one slip could lead to Clancy wreaking havoc on their minds.

They are armed only with a volatile secret: proof of a government conspiracy to cover up the real cause of IAAN, the disease that has killed most of America's children and left Ruby and others like her with powers the government will kill to keep contained. But internal strife may destroy their only chance to free the "rehabilitation camps" housing thousands of other Psi kids.

Meanwhile, reunited with Liam, the boy she would-and did-sacrifice everything for to keep alive, Ruby must face the painful repercussions of having tampered with his memories of her. She turns to Cole, his older brother, to provide the intense training she knows she will need to take down Gray and the government. But Cole has demons of his own, and one fatal mistake may be the spark that sets the world on fire.
MY THOUGHTS
First of all, I would just like to say that I am extremely happy with how this series ended. I loved the Darkest Minds, but I honestly hated the second one, Never Fade. It was very slow and was just overall a boring read. So after I finished Never Fade, I was pretty much 99% sure that I wasn't going to finish this series. As time went on and the memories of plot kind of disappeared, I became more sure of it. However, I decided that in 2016, I was going to pick up the series I never finished and try to finish them. Which I'm freaking glad that I did.
The story picks up after Never Fade: Ruby, her friends, and a few others are finally searching for The Ranch. Cole, Liam's brother, and Ruby with the help of others start to plan how to free the children locked in the horrendous Camps. They have only weeks to come up with a plan, finding any source of help they can find, and alert the world about what is really going on up in that place because it sure as heck not what the world was thinking was going on in there. They also face other problems along the way, and have to figure out how to deal or cope with it
.
In the Afterlight was honestly a little slow in the beginning. Even though it was a little slow, 30 pages in and I was already hooked. It was sooo good! Literally nothing big happened in the first 250 pages. Nothing. Zilch. Nada. But, it was still interesting and I didn't want to put it down. That's how freaking awesome Alexandra Bracken is! She puts so much detail into the story to make it feel like it is actually playing out before your eyes. Like I said, she's freaking awesome.
This was a great ending to the series. If you are wondering about whether you should finish the series or not then I recommend that you should definitely continue the series. I can't get over how good it was. I'm sooo happy! Anyways, thanks for reading! What did you think of this book?
This book was also part of my
2016 Finishing the Series Reading Challenge
One down only five more to go!
Thanks for reading!
If you would like to see more of my reviews in the future, make sure to follow on Bloglovin!
;D