REVIEW: Everything Everything By Nicola Yoon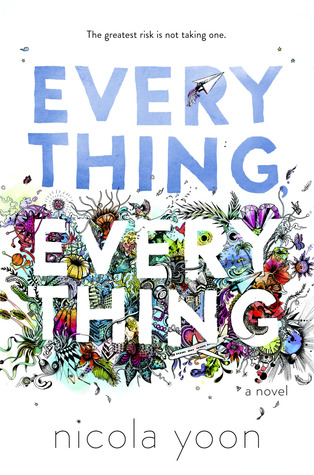 Series:
(Stand Alone)
Published By: Delacorte Books for Young Readers
Genres: Young Adult, Contemporary, and Romance
Format: E-book
RATING: 2 Stars
Pages: 320 pages
SYNOPSIS (from Goodreads)
My disease is as rare as it is famous. Basically, I'm allergic to the world. I don't leave my house, have not left my house in seventeen years. The only people I ever see are my mom and my nurse, Carla.
But then one day, a moving truck arrives next door. I look out my window, and I see him. He's tall, lean and wearing all black—black T-shirt, black jeans, black sneakers, and a black knit cap that covers his hair completely. He catches me looking and stares at me. I stare right back. His name is Olly.
Maybe we can't predict the future, but we can predict some things. For example, I am certainly going to fall in love with Olly. It's almost certainly going to be a disaster.
I did not really enjoy this book. It went a little to fast and it seemed as certain aspects of the story were just thrown in there for the heck of it. It also had insta-love. The romance and the I love you's happened way too fast. Also, I wish that we got to see more in depth of some of the characters like, Oliver's family. Madeline annoyed me. Some of the choices made by her and the other characters utterly surprised me. There were instances were Madeleine decided to go a path that meant possible ultimate death, and the people around her basically cleared a path for her to do it. It just bothered me.
Some good aspects of this book would be the beginning and the plot twist. Definitely was shocked about how the story ended playing out. Something I was definitely not expecting. I loved the beginning sooooo much!! It was cute, adorable, and it really drew me in. It was just near the middle and the ending that drew me away.
Even thought I didn't particularly enjoyed this one, I still recommend that you read this one. I know a lot of people who really loved this read. I say give it a try! I ended up giving this book 2 stars.
Have you read this? Your thoughts? What did you think of Madeline's decisions?
Haven't read this? What are you looking forward to in this book?
This book was also part of my 2016 Contemporary Challenge
5 down, 10 more to go!!!
Thank you so much for reading!!! ;D
If you would like to see more of my reviews in the future, please either follow via email or
Bloglovin!!
!