REVIEW: My Heart and Other Black Holes By Jasmine Warga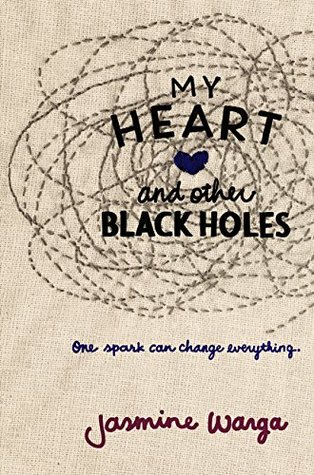 Series: (stand alone)
Published By: Harper Collins/ Balzer + Bray
Genres: Young Adult, Romance, Mental Health, Contemporary
Format: E-Book
Pages: 302 pages
Synopsis (from Goodreads)
Sixteen-year-old physics nerd Aysel is obsessed with plotting her own death. With a mother who can barely look at her without wincing, classmates who whisper behind her back, and a father whose violent crime rocked her small town, Aysel is ready to turn her potential energy into nothingness.

There's only one problem: she's not sure she has the courage to do it alone. But once she discovers a website with a section called Suicide Partners, Aysel's convinced she's found her solution: a teen boy with the username FrozenRobot (aka Roman) who's haunted by a family tragedy is looking for a partner.

Even though Aysel and Roman have nothing in common, they slowly start to fill in each other's broken lives. But as their suicide pact becomes more concrete, Aysel begins to question whether she really wants to go through with it. Ultimately, she must choose between wanting to die or trying to convince Roman to live so they can discover the potential of their energy together. Except that Roman may not be so easy to convince.
When I first saw this book, I wasn't 100% sure if I wanted to read this. I typically don't like reading these type of books because when I read them I can't help think of my past. It just brings memories that I rather not bring back up. I heard vaguely about what it was about but, after reading that synopsis I was knew it would be nagging at me at the back of my mind to read it. I could relate a lot to the main character, Aysel. Not the my dad is a murderer thing but, how she feels. I have felt that "black slug" that she refers to the book and just found myself relating a lot with her.
This book follows a girl, Aysel, who is struggling with depression and wants to die. However, she doesn't want to do it alone. If she does eventually decide to do it, she doesn't know if she will be able to go through with it alone. She finds a website called Suicide Partners. Suicide Partners is a website where you partner up with somebody and commit suicide together. She finds a guy, Roman, who lives nearby and teams up with him. They plan their suicide together, spend time together as their time dwindles down, etc. As they spend more time together, they slowly become happier. Aysel begins to question whether or not she should do it. However, Roman, is set on dying. Will she and Roman go through with it? Or will they finally find happiness, in each other?
I'm having a hard time expressing my feelings on this book. I liked it. I like the way it kind of shows hope even in the worst circumstances (if that makes sense). I love the interaction between Aysel and Roman. I love the little happy moments they spent together. Even though I liked the moments they spent together, didn't the romance seem kind of forced? It just happened so sudden.
That's pretty much all I have for this book. What are your thoughts? What did you think of that relationship? Are you thinking about picking up this book?
Thanks for reading!
If you would like to see more of my reviews in the future, please follow on either via email or

Bloglovin!
;D