Top Ten Tuesday #18
This weekly meme is hosted by
The Broke and the Bookish
.
Hello, everybody! I hope you all have had a great week so far! It's Tuesday so, that means that it's time for another Top Ten Tuesday! This week is all about Ten Reasons I Love ...(fill in blank). For this week, we could decide on a book, character, TV show, or really anything we would like. This week I decided to venture a little away from books this week for Top Ten Tuesday and decided to go with: 5 Reasons I LOVE Doctor Who!! Doctor Who is my favorite TV show and there are so many reasons why I love this show, but here are just 5 reasons why I love it! Sorry in advance for the large amount of gifs used in this post... I got really excited and went overboard. :3 Anyways, let's dive right in!! ;D These are in no particular order!
5 Reasons I LOVE Doctor Who!!
5. The Plot, of course! ;D


4. Scary, yet awesome, villains!
Doctor Who has some seriously amazing villains and creatures like the Daleks, Weeping Angels, Cybermen, the Silence, etc. My mind continues to be blown as more and more villains and creatures are introduced to the show.
DON'T BLINK!!
3. The Companions!
The Doctor's Companions play a huge part in the Doctor's life and I love every single one of them!
My top favorite companions would be Rose, Donna, and Rory. :)
2. Of course, the Time Travel!!
I absolutely love the Time Travel in this show and we get to see into the future and the past! My favorite episodes are when the Doctor and whoever may be his companion go back in time! ;)
1. David freaking Tennant aka Ten!
Obviously, 10 is my favorite Doctor and is probably the reason I got so into Doctor Who. It was absolutely heartbreaking to me when he left the show. I think I am still in mourning...
Like come on!
How...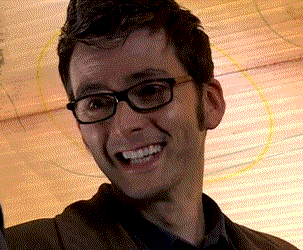 Can...
You not...
Love...
This Man?!?!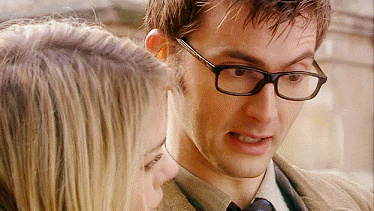 Anyways, that's it for this Top Ten Tuesday! Do you watch Doctor Who? Tell me in the comments what are some of your favorite aspects of the show, favorite Doctor, companion, Villain, etc.? Share with me you Top Ten Tuesdays!!
If you would like to see more of my blog posts in the future, please follow either
Bloglovin
, or email!
Also, I will be posting a giveaway once I reach 150 followers on Bloglovin!!
Hope to see you next week!